In my gardening experience, there is almost nothing worse than having a zucchini plant that will not produce mature zucchini or zucchini that falls off before getting full size. You may find yourself with many feet of trailing zucchini leaves of luscious green but, yet, no sizable zucchini ever appears!
So, why do zucchini plants grow large green, trailing leaves but fail to produce large zucchinis? Pollination is the most likely culprit.  One reason may be that there are not enough bees pollinating from male to female flower on your zucchini plant. Another reason may be that the male and female flower blossoms were not both open at the same time to be pollinated.  Successful zucchini plants require a sizable bee population in your growing area in order to ensure enough pollen is being transferred from the male to female flower blossoms while they are both open.
The female flower blossom of a zucchini contains a small fruit that must be pollinated by the male flower in order to produce full sized zucchini.  Bees perform the task of transferring pollen from male to female. In some cases, as a gardener, you must take matters into your own hands.
Zucchini Anatomy: Male and Female Flower Blossoms
So how does the transfer of male to female zucchini flower blossoms actually work? One of the easiest ways to identify the difference is to see which flower has a small fruit. The female flower blossoms will have a small fruit at its base while the male flower blossoms will not. The photo below shows the most obvious difference between the two. A female zucchini flower will have an obvious fruit attached to base, the male flowers sit on a slender stem.
To get a little more specific, you can tell the difference between a male and female zucchini flower blossom when the flowers are open.  I have found that zucchini flower blossoms are more likely to be open in the early morning. A female zucchini flower blossom will have a cluster called a stigma (cue middle school biology) shown below on the right. A male zucchini flower blossom will have a singular anther shown below on the left.
Male zucchini flower blossoms are typically used in culinary recipes such as stuffed blossoms. See my upcoming post on vegan ricotta fried zucchini blossoms (so delicious!). Male zucchini flower blossoms typically appear on a plant before female flower blossoms. Early on in the zucchini plant's life is a good time to harvest male flower blossoms for your kitchen recipes.
In order for you to have full sized, healthy zucchini, pollen must be transferred from the male anther to the female stigma. This job is primarily performed by bees. The process by which a male transfers to a female on the same plant is called self-pollination. When you grow several varieties together, cross-pollination can occur. Cross-pollination occurs when a male flower pollinates a female flower on a different, separate plant. When cross-pollination occurs, the resulting zucchini may differ slightly in color, shape and size. Below you will find a couple of examples of zucchini and squashes that have cross-pollinated – resulting in abnormal varieties. Growing cross-pollinated varieties can be fun and surprising as well! I have grown both dark emerald green zucchini alongside pale yellow zucchini and the result of cross-pollination has produced pale sage green zucchinis that are just as delicious!
How to Pollinate Your Zucchini
With all that being said, how do you go about pollinating your zucchinis?
The first, natural solution is to grow flowers and plants that attract bees to your garden and near your zucchini plants. I grow borage and chinese forget-me-nots in the same raised bed as my zucchinis. I also grow many other flower and plant varieties that attract bees in the rest of the garden. Bees are particularly attracted to flowers and plants that are blue and purple or violet in color.
Some other promising varieties to grow alongside your zucchini are sunflowers, lavender, thyme and heliotrope. All of these plants have attracted a lot of bees to my garden.
The second, more hands on solution is to do it yourself! By grabbing a paintbrush or cotton swab, you can manually transfer pollen from the male zucchini flower blossom to the female flower. The best time of day to manually pollinate your zucchini plants is in the early morning when both the male and female flowers are open. They tend to close up over the course of the day. To pollinate your zucchini plant just gently swab the male zucchini flower blossom anther and then transfer the pollen you acquired to the female zucchini blossom stigma. You can also pluck the male zucchini blossom from the plant and use the anther to pollinate the stigma and discard the male after use.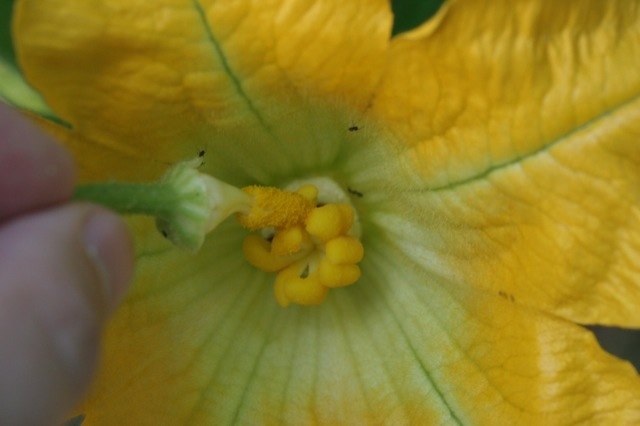 Related Questions
Can I manually pollinate my zucchini even if they are producing some fruit?
Absolutely, I have manually pollinated flowers that have a few promising zucchinis on it. When my plant produces fruit that is either misshapen, small in size, or infrequent – I resort to manually pollinating. Manually pollinating can also ensure that the male and female flowers of the same plant are interacting with each other.
How do I know that my zucchini is ready to be harvested?
The typical zucchini size is 6 to 10 inches. You can leave your zucchini on your plant to get larger, or harvest earlier. I have found that the larger you allow your zucchini to get, the more water content and the larger the seeds. I prefer to harvest zucchini at about 10 to 12 inches. This allows me to make a wide variety of recipes. Zucchini noodles (zoodles) are typically easier to spiralize with a larger zucchini. You can also drain a lot of the water from zucchini by sprinkling some salt and squeezing it out in cheese cloth.
How many zucchini plants should I grow?
If your zucchini plant is well pollinated, you can harvest at least one full size zucchini per day throughout the growing season. For a family of 3 or 4, 2 to 3 zucchini plants would feed you plenty of zucchini.